2010/10/9
忘記是為什麼四五個人聚在一起吃飯喝酒,地點是令人緬懷的孔雀
未成年請勿飲酒,飲酒過量有礙身體健康

Chapel Down Tenterden England NV Sparkling Rose
Very Light pink color. Lots of active bubbles, and lasting for more than 1 hr.
Nose is light. Flower, egg white, black cherry.
Orange acidity flavor, light candy. The mouth feel of bubbles is a bit sharp. High acidity.

Chateau Paveil de Luze 1998
Cru Bourgeois, Margaux.
Deep ruby with garnet hue. Can't believe this is a 12 yrs old.
Medium nose. Pickled squash (decreasing), wet soil (decreasing), vegetable (decreasing), rotten leaves (decreasing), with chocolate, black currant. After about 0.5-1 hr breathing, shows sweet black cherry and flower noses, just like typical Margaux.
Medium- body with medium- acidity and tannin (matured and velvet). Dry but with a bit fruity sweetness. Chocolate, black berry, light flowers. Medium length. At its peak!!

Holy cow Riesling 2006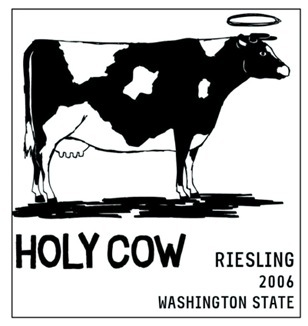 Light blond.
Medium mineral (decreasing), honey (increasing), lemon, and peach. Some petrol nose is light and decreasing.
Palate has citrus, light green apple, and petrol flavors. Medium- acidity and body. Off-dry and medium- length.

Schramsberg Cremant 1988 Demi-sec
Schramsberg is a sparkling wine winery in Calistoga (northwest of Napa, belongs to Napa AVA), and it was founded by a Germany family. This sparkling wine house follows the traditional Champenoise method to produce great wines, especially for their vintage sparklings. This Cremant is made by Flora (a cross of Sémillon and Gewürztraminer developed at UC Davis) with a small portion of Chardonnay and Gewürztraminer.
Deep tawny color.
Medium to pronounced nose. Caramel sauce, cake, coffee, milk, chocolate. All relate to desserts.
The body is medium to full, still keeps its structure (well, no bubbles after 20+ yrs). Low to medium acidity. Ripe apple, apple pie, citrus, chocolate, caramel and coffee.
Very Brilliant.